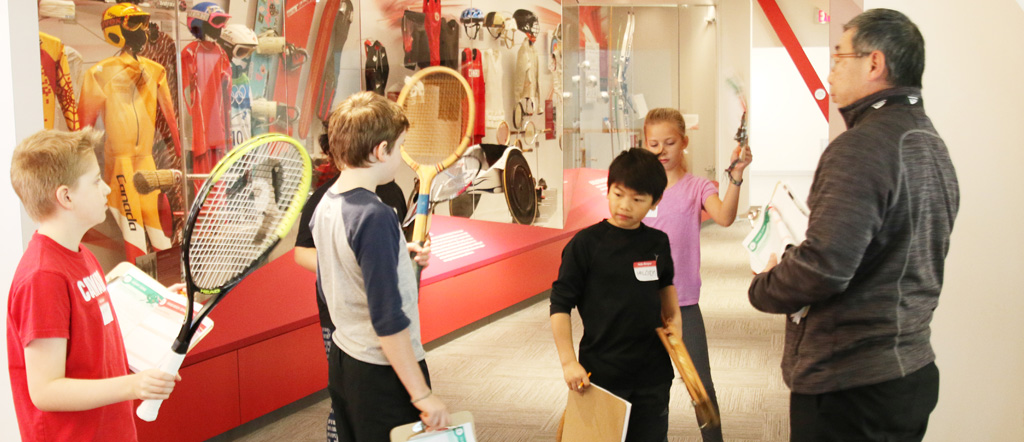 School Field Trip FAQs
Our FAQ's cover the following areas. Click on the below links to jump to a section of interest.
Pricing 
What are your group rates?
Pricing and school packages can be found on our School Field Trip Planning page.
What happens to the cost if I want to book a shorter/longer activity time? What about if we want to do multiple activities?
For sport activities, the minimum charge for a group booking is based on a 90 minute session.
If the booking involves more than one activity, the amount of time per activity may be adjusted.
Court activities may be prorated for 60 minute activity time. Skating, Building Tours, climbing and the Olympic Experience cannot.
Check out our School Field Trip Planning page for individual activity pricing and activity descriptions, and example day plans.
Parking and Transportation
Do we have to pay for parking?
Cars must use the parkade which has pay parking for $2.00/hour.
Is there a bus or transit that goes to the Oval?
Information for transiting to the Oval can be found online at http://richmondoval.ca/facility/hours-location/#parking
*ROO location, public transport information, parking information and overflow parking map can be found here on the Oval website http://richmondoval.ca/facility/hours-location/
Your Visit
What do I need to bring on the day of my booking?
Please check our Richmond Olympic Oval Teacher's Field Trip Instructions online.
Do we need to fill out a waiver form?
Yes. Which activities require a form to be filled out? A waiver must be completed by every participant for the Olympic Experience as well as all sport and fitness activities. Download the waiver form.
Where do we go when we arrive? What happens when groups transition between activities?
Please meet in the lobby and check in at the front desk when you arrive unless directed to meet elsewhere.
Staff will lead you to your first activity and assist with activity transitions, but chaperones must also accompany and manage their students for the duration of the visit.
Is there anywhere nearby for students with lunch money?
The Richmond Olympic Oval is excited to announce that a new food and beverage provider will be joining the Oval team in the Fall. The new operator will be providing Oval members and visitors with a variety of fresh and enticing culinary options. In the interim, we are pleased to offer Oval members, visitors and staff a variety of food truck offerings throughout the summer. The ROX Shop in the Oval lobby also carries a variety of sport beverages and light snacks.
Where can we leave our bags?
There are complimentary lockers in the change rooms on the first floor past the front desk. Please ask a staff, and they will be able to direct you towards the change rooms. Alternatively, if you have a lunch room, you may leave your belongings in this room.
Where can we change?
If possible, please arrive dressed for your scheduled activities so the activities can start on time. If you need to change while in the building however, there are changerooms on the first floor past the front desk. Please plan extra time prior to your activity start time if this is necessary.
How many can fit in a lunch room? Does a lunch room cost extra?
The Olympic Oval has several multipurpose rooms which accommodate 40-60 people. When available, a room or rooms will be made available, and included complimentary in bookings. When a room is not available other facility spaces will be designated for lunch.
How many staff will be with our groups?
The staff to student ratio is as follows:
Climbing 1:5
Ice and court activities 1:15
Climbing
Does climbing gear cost extra?
Climbing harnesses are included in the individual group rate. Please wear running shoes and appropriate athletic clothing for climbing.
Is the $30 for Learn to Belay for one or two sessions?
This is the cost for both (two) sessions. The first lesson includes learning how to belay and the second lesson includes a belay check and practice time. Can we just do one Learn to Belay session and forego the second lesson? To fully complete belay training, an individual must attend both belay sessions.
Skating
Are skates and helmets included in the individual skating fees? Do students have to wear helmets while on the ice?
Yes, skates and helmets are included in the rate per individual for a school booking.
Children 12yrs and under must wear CSA approved hockey helmets. Bike and/or ski helmets are not permitted on the ice.
How many skates and helmets do you have for each size?
We have numerous skates and helmets in each size, but we may run out of popular sizes during a large skate with over 80 participants. We recommend bringing your own pair of skates and helmet to ensure you have a gear that fits you comfortably.
What about students with limited skating experience, can they go on the ice with the rest of their class?
The Oval provides skating supports for on the ice. If anyone requires one-on-one assistance on the ice, please provide an extra chaperone or to request an extra Oval Staff to help, please email a booking agent directly. Contact information can be found on at theROX.ca/FieldTrips.
We have a skate booked for our class, can the kids bring their hockey sticks with them?
Hockey requires extra insurance for schools. Please contact a booking agent directly for details on whether hockey is a possibility for your booking. Contact information can be found on our Field Trips page at theROX.ca. Students must also use soft pucks and not regular, full-weighted hockey pucks if hockey is included in your booking.
Team Building
What do team building games look like?
Team building games – may differ between instructors leading activities that day, but some examples of what some of these games may include are blindfolded obstacle courses and various relays, Minefield, Baton Pass, and the Bench Game.
Obstacles and relays – kids will be challenged to use gymnastic equipment, mats and other materials to create courses before racing on them, breaking them apart and starting again in an attempt to build the ultimate course.
Olympic Experience
What is the Olympic Experience?
The Olympic Experience is Canada's only Olympic museum. It showcases over 400 Olympic artefacts, and includes highly interactive exhibits including sport simulators, digital archives, a broadcast booth, and sport challenges such as How High Can You Jump.
What does this visit look like (Are there people showing you around and showing you how to use the simulators?)?
There are a number of structures for a visit to the Olympic Experience:
Free flow – students explore exhibits on their own with staff and volunteers assisting students with the simulators and exhibits and available to answer questions. Teachers and chaperones must continue supervising students inside the Olympic Experience as staff and volunteers will be assisting those students using the simulators.
Education ROX – a structured visit in which students are placed into small groups and are lead through curriculum based activities focusing on different exhibits.
Guided Tour – a short tour from the theatre on Level 1 to the Level 2 artefact cases including information on the building, and time in the museum to explore.
Check out the following video to see the inside of the Olympic Experience! https://www.youtube.com/watch?v=rK0m8zweuCk&feature=youtu.be
Are the simulators included in the admission cost to the Olympic Experience?
Yes.
How many times may we use them?
As many as your allotted activity time allows. Simulators have a run time between 1-3 minutes in length.
Do the simulators have a height restriction?
Yes. The requirement for the Race Car is 60-inches (5ft), the Bobsleigh, Sit Ski, and Kayak is 45-inches (3ft-9in).
Do you have operating instructions for Sport Simulators and interactive challenges in foreign languages?
Not at this time. ROX volunteers will however assist with the use of sport simulators and will demonstrate the use of controls.
How many people can fit in the Olympic Experience?
The capacity of the Olympic Experience is 190, and the theatre seats 44. For groups larger than 44 a schedule will be made to rotate through the theatre, Level 2 exhibits and Level 3 core which contains the majority of exhibits and all sport simulators.
Do we need a waiver for the Olympic Experience?
Yes. The Waiver Form can be found online at theROX.ca/FieldTrips.
Is there a bathroom inside the Olympic Experience?
Yes. Please ask an Olympic Experience Volunteer or staff member and they will be happy to point you towards the bathroom.
What clothes are best to wear to the Olympic Experience?
Street clothes are suitable for visiting the museum; however participation in select interactive sport exhibits may be limited by non-athletic clothing. For example, the long jump or how high you can jump exhibits may be better with running shoes and flexible clothing.
The museum is located on an open balcony next to the ice rinks. Therefore the air temperature is what you would experience in an ice rink. It is cold. Please dress with warmer layers.
Payment
Do chaperones need to pay for their visit?
We offer 1 complimentary chaperone for every 10 students attending a field trip. *Please note that chaperones are expected to stay with their students and supervise them as well as being responsible for managing behavior.
What happens if a child is sick on the day of our visit? Or numbers change close to the booking date?
Booking numbers must be finalized 5 business days prior to a visit. Staff are allocated to bookings based on participant numbers.
When do we have to pay?
Full payment including tax and other applicable fees along with signed confirmation must be received 5 days prior to the first visit in order to secure booking. If not received by this time your booking may be cancelled.
Is there tax on the final fee?
Yes, GST (5%) will be applied to the booking. This will be outlined in the Group Booking Agreement.
What is your cancellation policy?
The booking fee is non-refundable if cancelled with less than fourteen (14) days from the first event date. Cancellations or transfer of dates within 14 days of time of booking are subject to an administration cancellation fee of 50% of total booking. Should it become necessary to decrease the number of attendees to any or all of the visits, a reduction of 10 guests will be permitted. This change must be received 48 business hours prior to the visit.
Other Useful Information
Age Restrictions:
• Rowing is taught to ages 14yrs+
• Paddling to ages 8yrs+
• Climbing For ages 5 and up dependent on safely fitting a harness
Maximum number of participants for each facility/activity:
• Climbing: Max = 35
• Ice: Max = 100
• Courts: Max = 45
• Rowing: Max = 8
• Paddling: Max = 10
Available Skating Times M-F
Monday – 9:00am-3:00pm
Tuesday – 9:00am-3:00pm
Wednesday – 9:00am-10:30am
Thursday – 10:00am-3:00pm
Friday – Unavailable most Fridays.
Timeline to expect for booking inquiry to completion:
Please request your booking 4 weeks in advance to your preferred booking date. Organizing a booking can take 2 weeks to prepare schedules, contracts, and to secure space and staff. If bookings are made under 4 weeks, or if changes are made to the original booking request, this booking process can take longer.
I left my personal belongings! Where can I pick them up?
Lost and found items will be brought to the Lost & Found at the front desk. Please call the front desk at 778-296-1400 to see if your items have been found. These may then be picked up in person with one of our Client Service Representatives.