RICHMOND, BRITISH COLUMBIA
In the heart of the Pacific Northwest lies Richmond, British Columbia, Canada. Connected by modern public transportation, major throughways, ferry systems and Vancouver International Airport (YVR) — Richmond is easily accessible, ideal for visitors from any origin. Richmond is a truly international city with its citizens originating from over sixty cultural backgrounds.
Being a Host Venue for the 2010 Olympic Winter Games elevated Richmond's commitment to health, wellness, innovation, sustainability and sport excellence. During the Games, Richmond transformed into an amalgamation of athleticism, Olympic spirit, community pride, art, culture, and excitement.
Combine this athlete-centred city with great accessibility, affordable accommodations, cultural diversity and the buzz of the Olympics, and you've got a destination and experience that organizers, athletes, families and spectators will not soon forget.
THE RICHMOND OLYMPIC OVAL
The Richmond Olympic Oval hosted the long track speed skating events during the 2010 Winter Olympic Games and is now an international centre of excellence for sport, health, wellness and entertainment. It is an iconic waterfront venue situated on the banks of the Fraser River that continues to draw visitors from around the world.
The Richmond Olympic Oval's post-Games legacy conversion offers visitors:
2 Olympic sized ice sheets
6 hardwood courts
A track zone that includes a 200 metre running track encircling a vast multi-purpose sports zone
An indoor climbing wall
A 23,000 square foot fitness centre on the mezzanine level
An indoor rowing and paddling centre
A dedicated high performance training centre
Meeting rooms
4,400 square foot YYOGA studio
A retail store
A sports medicine centre
With its breathtaking design, Olympic history, and its post-Games legacy amenities, the Richmond Olympic Oval is viewed as one of the most successful Olympic facilities ever to be built.
THE RICHMOND OLYMPIC EXPERIENCE
The Richmond Olympic Experience is a highly interactive museum showcasing and celebrating the Olympic and Paralympic Games. As the first North American member of the International Olympic Committee's global Olympic Museums Network (OMN), the Richmond Olympic Experience inspires excellence in sport, promotes community, and motivates visitors to dream big.
The Richmond Olympic Experience re-ignites the excitement of the 2010 Olympic Games and educates visitors in the science, art, culture and power of sport.
The 15,000 square foot interactive exhibition is located on the Oval's mezzanine level and features:
Artefacts from prominent Olympic and Paralympic athletes from around the world
State of the art interactive sport simulators
Skill-testing interactive activities and multimedia displays
A collection of torches and medals from past Olympic Games
Inspirational stories of Olympic achievement, teamwork, and resilience
HIGHLIGHTS OF THE RICHMOND OLYMPIC EXPERIENCE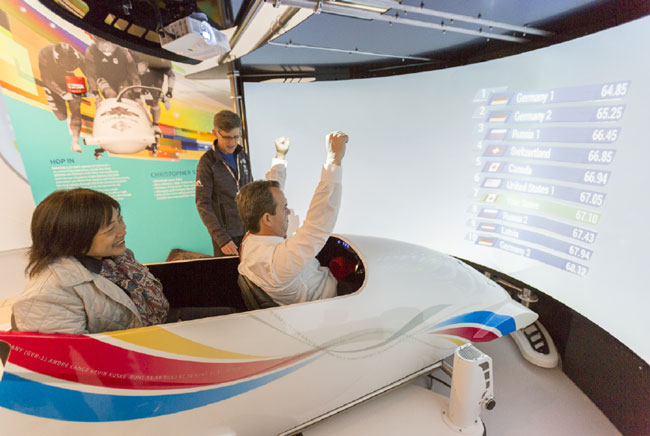 EXPERIENCE OUR STATE-OF-THE-ART OLYMPIC AND SPORT SIMULATORS
Experience our state-of-the-art Olympic and Sport simulators, each developed so that the visitor can experience what a world-class athlete experiences as they compete on the international stage. Feel the rush as you try an Olympic ski jump, paddle down a raging white-water kayak course, carve the perfect line in a sit-ski slalom race or zip along at incredible speeds on an Olympic bobsleigh track.
INTERACTIVE CHALLENGES
Challenge yourself and your friends. Test your skills and accuracy on interactive hockey and soccer nets. Measure your vertical jump, long jump and reaction time, comparing your results to those of an Olympian. You can even try your hand at broadcasting an Olympic event.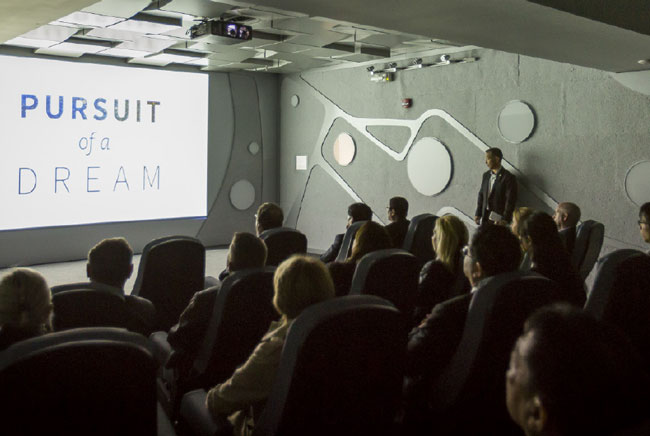 RICHMOND OLYMPIC EXPERIENCE THEATRE
Buckle up in our Theatre and walk a mile in an athlete's shoes as they pursue their Olympic dream. The Theatre will also host special screenings, corporate events, seminars and other programming that will keep visitors coming back again and again.
ICONIC MOMENTS WORTH RELIVING
Feel the hairs on the back of your neck stand up as you re-live the world's most inspiring sport, Olympic and Paralympic moments. The Richmond Olympic Experience collaborates closely with the global Olympic Museums Network and shares hundreds Olympic artefacts. See historic Olympic medals, torches, and uniforms from past Olympian heroes and discover Olympic and Paralympic history through interactive touch tables showing how the Games have and continue to evolve.