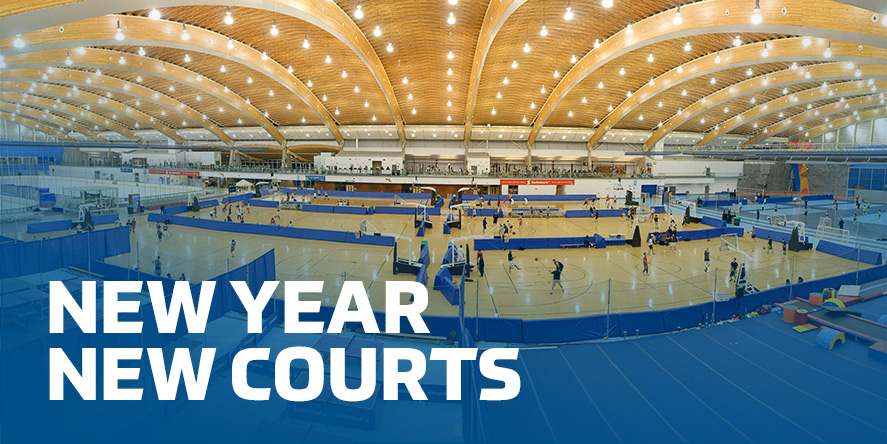 We will soon be commencing scheduled maintenance on our hardwood courts. The popularity of the hardwood courts and the volume of use requires re-finishing every few years. This type of maintenance preserves and extends the wood floors' life span and integrity. From December 14 – January 5, hardwood courts 1 – 3 and 5 – 7, as well court 8, will be closed in order for this work to happen. When they re-open on January 6, our guests will enjoy newly coated floors with a brand-new top finish which will improve both the look and performance.
In addition to our regular holidays on December 24 (6:00am – 4:30pm), December 25 (closed), these improvements will also require us to close the Oval, including the Olympic Experience museum, from December 26 – 31. These dates have been selected to minimize the impact to members and guests. This time period includes our annual holiday closures, natural breaks in programming and a seasonal reduction in visitation. LifeMark Sport Medicine and YYoga will remain open during this time as this work will not impact these areas of the building.
We want you to stay active. Oval members can access the fitness centres at the following locations from December 26-31 at no additional cost by presenting their Oval membership card:
On January 1, 2019 we will resume regular hours of operation from 6:00am – 11:00pm.
The work will be completed in 3 phases, requiring both partial and complete closure of the Oval. See dates below:
DATE
FACILITY HOURS
NOTES
Dec 14-23
6:00am – 11:00pm
Courts 1 – 3 & 5 -8 CLOSED
Dec 24
6:00am – 4:30pm
Courts 1 – 3 & 5 -8 CLOSED
Dec 25
CLOSED
Dec 26-31
Full closure of Activity Level, Olympic Experience Museum, & Fitness Mezzanine

LifeMark Sport Medicine and YYoga OPEN
Access to Watermania Fitness Centre

Jan 1-5
6:00am – 11:00pm
Courts 1 – 3 & 5 -8 CLOSED
Jan 6
6:00am – 11:00pm
 All Areas OPEN
We apologize for any inconvenience this may cause and appreciate your patience and support while we make these enhancements to your favourite sport and fitness facility.
For general inquiries regarding operating hours and facility access, please call 778-296-1400 or email info@richmondoval.ca
Additional Contacts:
Gerry De Cicco:
Director, Community & High Performance Sport, Marketing, Events & Member Care
778-296-1439
gdecicco@richmondoval.ca
Andrew Clark:
Manager, High Performance, Fitness, Marketing & Communications
604-345-6681
aclark@richmondoval.ca