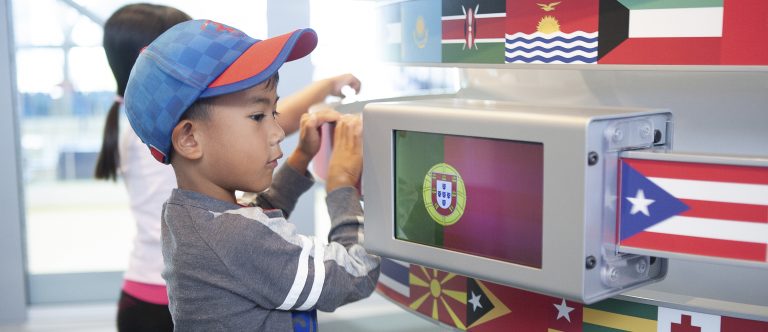 The Richmond Olympic Experience (ROX) at the Richmond Olympic Oval is the first member of the International Olympic Committee's Olympic Museums Network to be located in North America.
A highly interactive and dynamic visitor experience, the ROX features interactive media, hands-on sporting simulations and challenges, plus displays and artefact exhibits. The ROX encompasses the entire modern Games since 1896 to present day and features stories from every nation around the globe that has participated in the Olympic Games. Experiencing  the thrill of competition first-hand, learning the ideals of the Olympic movement and reliving the triumphs of the Games is an immersive experience which will leave guests of all ages inspired to achieve their own personal podiums.
The Olympic Experience museum is located within the Richmond Olympic Oval, which was host of long-track speed skating events during the 2010 Winter Games. The building has since been converted to a world-renowned multi-sport facility and the Olympic Experience exhibits are spread throughout and around the building. There are over 30 museum exhibits throughout the 3 Levels of building. Here is an overview, by Level, of the different types of exhibits:
Level 1 of the Olympic Oval contains the parkade and front desk. The museum elements on this level include the Richmond Sports Wall of Fame, volunteer sculpture, the Olympic Experience Theatre, and a rotating exhibit with local focus, which currently features the BC Football Hall of Fame and Volleyball Canada. The ROX Theatre shows a 9 minute inspiring film called Pursuit of a Dream which features aspiring Olympic athletes on their journey to the Games, as well as highlights of heartache and triumph from Olympic Games history.
Level 2 of the Olympic Oval is our main sport-Activity Level. The museum elements on this level include five exhibits: Canadian Olympic Committee, Paralympic Committee, History of Sport in Richmond, Tennis at the Olympics, and Athlete Mural.
Level 3 contains the museum core with the majority of exhibits (over 24) and all sport simulators and challenges.  These include:
Artefact exhibits such as Torches & Medals, Events which Changed History, Evolution of Sport (equipment), Olympic Mascots, and Olympic Highlight Moments.
Interactive Challenges such as Broadcast Booth, How High Can You Jump, Goal Scoring Accuracy, Reaction Timer, and Body Mirror.
And five Sport Simulators – Kayak, Bobsleigh, Race Car, Sit Ski and Ski Jump.
On the exterior of the building there are two exhibits, a banner exhibit featuring star Canadian Olympians, and the Torch Route, which winds around the building from the East plaza to the Northern Riverside Plaza, it is plated with cities that hosted the torch route, with informative displays for every region, and it culminates at a cauldron display.
If you have questions, contact the ROX and we'll be happy to answer them.
Phone: 778 296 1400
Email: info@theROX.ca