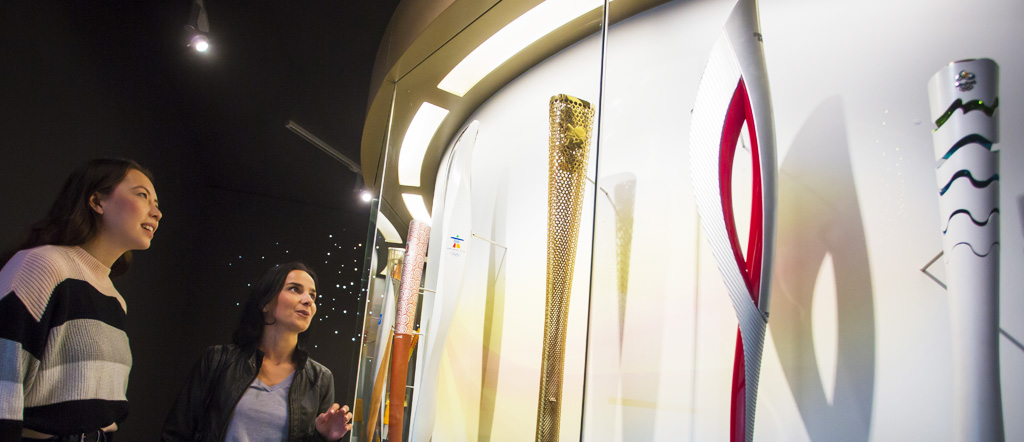 Sprint into the Richmond Olympic Experience by Pre-Purchasing Tickets Online

Special Notices
General Admission
Adult (19-64): $20.00
Senior (65+): $16.00
Youth (13-18): $13.00
Child* (6-12): $5.00
Child (5 and under): FREE
Oval Members** FREE
* Children under the age of 13 must be accompanied at all times by an adult over 18 years of age.
** Memberships of 10-Visit Passes and longer in duration qualify for Free Member admission. Members can scan their membership card at the Richmond Olympic Experience entrance.
Please note that sport simulators have the following height restrictions:
Race Car – 5 feet
Bobsleigh, Sit Ski, Kayak – 3 feet 9 inches
Richmond Olympic Experience Tour App / Audio Guide
Visitors to the Richmond Olympic Experience can download the free Richmond Olympic Experience app on their smartphone or tablet. The app will deliver an audio tour of the exhibits in English, French, Cantonese or Mandarin.
Alternatively, iPods are available for a free loan at the Richmond Olympic Experience Admission Desk.
Oval Member Discounts
Pass holders with a duration of 10-day or longer may visit the Richmond Olympic Experience for FREE. Please check in at the front desk before your visit to receive your Richmond Olympic Experience admission ticket.
Accessibility Discounts
Visitors with a disability or special needs can bring an attendant for free when paying one full price admission.
Group Bookings
Group rates and guided tours are available for group bookings of 10 or more people. Pre-booking of a minimum two days notice is required to access the group rate. Guided tours must be booked a minimum of two weeks in advance. Please contact the Education & Group Booking line at 778-296-1472 or email schools@richmondoval.ca to book your group.
Tour Groups
Tour Groups are intended for companies and agencies catering to tourists, such as tour operators. Inquiries for Tour Group rates and additional information can be made by contacting the Richmond Olympic Experience Program Coordinator Gregory Huzar at 778-296-1472 or ghuzar@richmondoval.ca. Volume incentives are available.
Your group experience will include:
Paid motorcoach parking adjacent to the Richmond Olympic Oval.
Complimentary admission for the Tour Escort/Driver.
Guided tour of the Richmond Olympic Experience lead by Docent who will provide an enhanced experience full of additional stories, historical information and background on the Olympic Oval.
Schools, Youth Groups & Camps
The Richmond Olympic Experience is unique place for children and youth to learn about Canadian sport history and the Olympic Movement, get inspired for their own personal podiums, while having an unforgettably fun experience.
Richmond Olympic Experience bookings can be made in conjunction with any other sport activity available at the Olympic Oval, such as rock climbing or ice skating. For more information specific to the Education Richmond Olympic Experience program please visit our Education ROX page.
Pre-booking is required at least three weeks in advance for all school and group bookings. Please contact the Education Program line at 778-296-1472 or email schools@richmondoval.ca for more information and to book your group.